So many LED Beacons! What do you offer?
There are many types in the market today with varying shapes, wattages, IP Ratings, build materials
and overall quality.
The end application will determine your needs followed by the quality you are wanting.
Lets look at the different shapes and there application.
Firstly the 'compact design'.
We offer two products that fit this category.
Here we have the FD24-Mini LED Beacon and the U3-24 LED Beacon, both are Class 1 approved and
have 24W of output light power.The overall height are also similar at 47.5mm and 45mm with a width of
110mm and 100mm respectivly. Both have high quality surface mount AMBER LED's with 24 x 1W LED's
in each, although the LED designs are different. Obviously differences are the shape, one is clearly round
and the other square, some other design differences are the build materials, the FD24-Mini Beacon has a
metal base and metal top cap where the U3-24 LED Beacon has an aluminium base with a black PC cover
and a high quality impact resistance PC Lens top cover. Since both are low profile, compact designs they
can be installed into tight spaces or where height in limited. Checkout more specifications like different
patterns and mounting options on the product pages, FD24-Mini LED Beacon and the U3-24 LED Beacon.
We then have a 'mid' size design.
We offer one LED Beacon in this category. The 36W Amber LED Fixed Mount Warnign Beacon.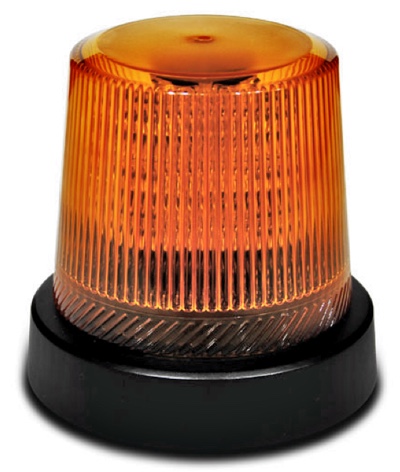 The SPOT Led Beacon has more light output power over the compact designs at 36W compared to 24W.
The shape is that of a traditional cyclinder design while still having a small footprint. It has a replacable lens
in case it gets damaged and needs replacing. Provides a 360 degree light output like all of our beacons and
has a metal base. Meets all of the important standards of ECE R65, SAE Class 1 and therefore produces a
consistant high quality light output. This beacon can be used by any construction or road maintenance
contractor that wants to be visible in day and night.
Next, best of both worlds, great design, broad shape
and light output of the highest quality.
This takes us to the high output solid robust LED Beacon.
The U1-24 and U2-24 72W AMBER LED WARNING LIGHT BEACON.
The U1-24 LED Beacon is 163mm wide and stands 106mm high while the U2-24 LED Beacon is a magnetic
base beacon at 150mm wide and 138mm high.
Product Featues: Dual Layer High Power and high quality AMBER Surface mount 3W LED's, Aluminium Base,
Impact Resistant changable Poly Carbonate Amber Lens, comes with foam gasket for fixed mounting or magnetic
base. Meets ECE R65 Class 1 standard to ensure a consistance high quality uniform light output to service both
day and night use, even in full sun conditions. 8 Flash patterns with simulated rotating function.
You can be confident if you select any of the beacons above you are getting the highest quality available and a
product that will service your needs for many years to come.